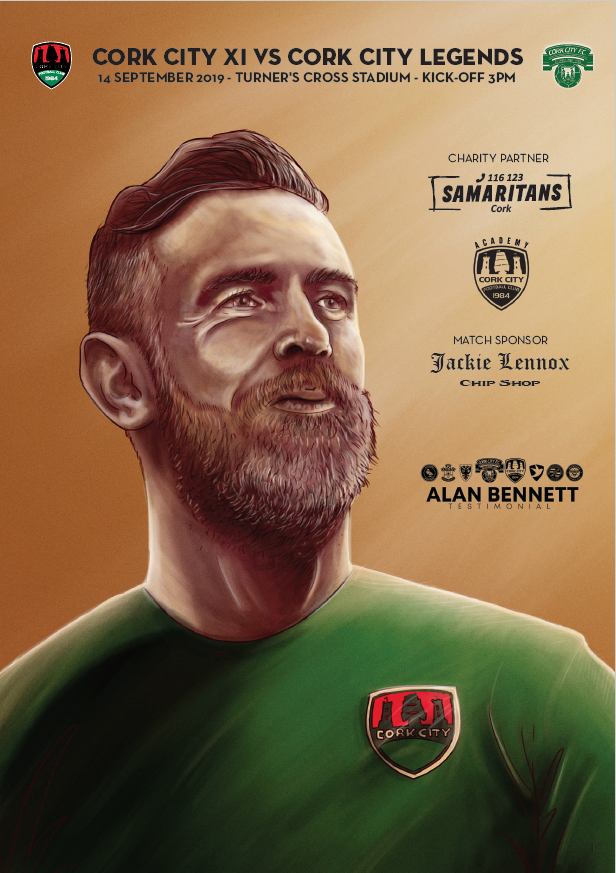 Alan Bennett Testimonial Match Programme (14 Sept-2019)
Pickup available at Club Shop
Usually ready in 2-4 days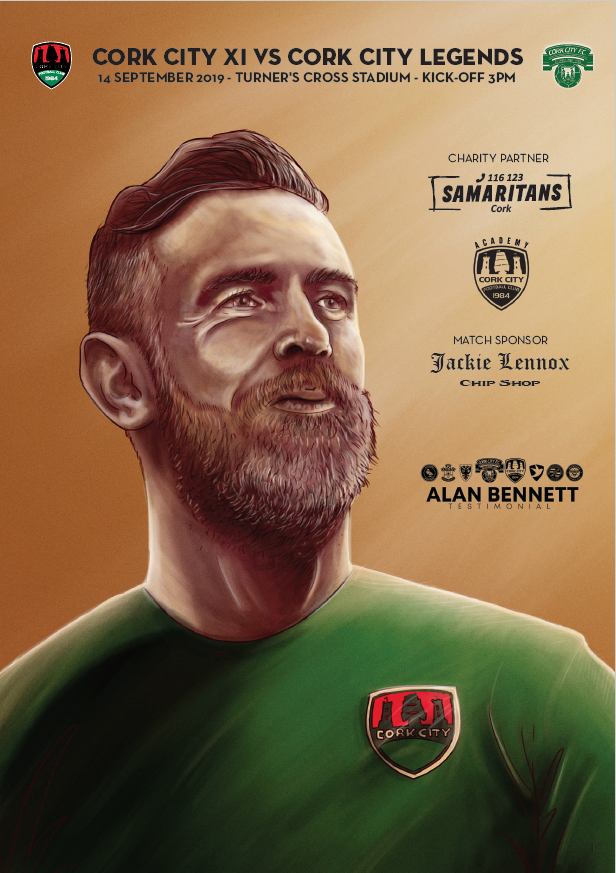 Alan Bennett Testimonial Match Programme (14 Sept-2019)
Free delivery
In this special edition programme, we celebrate the career of Cork City legend Alan Bennett. We talk to his teammates past and present, the coaches who harnessed his talents, and even the players who played against him, to get the measure of the man who anchored some of the best defences City fans have ever seen and who was integral to bringing league titles home to Turner's Cross in two different eras.
Friends from his time in England reveal why he was universally respected at every club he went to. We speak to the man himself in his most in-depth interview ever, as he discusses his career highs and lows and that time he snuck out for a "bag of cans" with the lads.
We have the definitive stats from Benno's career, and the big man answers readers' questions. We also got Benno to pick his all-time XI of City teammates - with interesting results!
The 36-page magazine features a glossy cover, with the artwork hand-drawn by renowned League of Ireland artist Barry Masterson.
--
Contents:



Foreword - Alan Bennett


On & Off the Pitch - John Caulfield


Interview with Alan Bennett - Nevin Power


Benno's Career Stats


Matchday Mascots


Jumping Over Fences (Colm Donovan, Richmond AFC)


Do The Basics Right (Stuart Ashton)


A Perfect Partnership (Dan Murray)


A Week In Marbella (Kevin Doyle)


For Club & Country (Joe Gamble)


Halftime Teams (Richmond AFC)


Champios League Boots (Kev O'Connor, Brentford)


You Gotta Be Ruthless (Matt Bloomfield, Wycombe Wanderers)


The Bleep Test (Jon Palmer, Cheltenham / Gloucestershire Echo)


Points Deduction (Andy Frampton, AFC Wimbledon)


Deadline Day Drama (Ivor Heller, AFC Wimbledon)


Passing the Torch (Conor McCarthy, CCFC)


Big Guys Going At It (Ciaran Kilduff)


Benno's Best Elevens


Ask Alan Anything


Today's Teams


SKU: BennoTestimonialPro
---