We welcome everyone to Turner's Cross and we want to make sure you find your way and have everything you need to get the most out of your visits.
Although we have thousands of supporters who follow CCFC every week, we know that coming to Turner's Cross for some can be a completely new experience.
If you have any questions which are not answered below, feel free to reach out to us by calling +353 (21) 4345574 or email info@corkcityfc.ie. You can follow us on social media @CorkCityFC for the latest updates and news.
How do I find out when there is a game on?

All of our fixtures are available on our website by visiting CCFC.ie/fixtures. Our home league games are usually played on Friday nights at 7.45pm however this can vary with fixture changes and clashes due to cup competitions. We also have some mid-week games since we have around 50 games to squeeze into a whole season!

Our fixtures & tickets are also available on the Cork City FC app (available on iOS and Google Play) – Search "Cork City FC". Tickets can be purchased via our Online Ticket partner TicketCo here.
Where is Turner's Cross Stadium?

Turner's Cross Stadium is located on Curragh Road in the Cork City suburb of Turner's Cross. It's around a 15 minute walk from Cork City centre and public transport is also available.

The EirCode/postcode for Turner's Cross Stadium is T12 DY8P. The geo-coordinates are 51.8857782, -8.46888 (Google Maps Link).
Is there public transport to the stadium?

Bus Services
The number 203 bus to Ballyphehane which departs from St. Patrick's Street (outside M&S) passes right by the ground on Curragh Road.

The 206 bus to Grange / Frankfield departs from the South Mall (City Centre) stops outside the Turner's Cross church and this is only a few minutes walk to the stadium.

The 209A bus to Ballyphehane departs from St. Patrick's Street (outside M&S) and stops on Derrynane Road (Turner's Cross).

The 219 bus from Cork Institute of Technology to Mahon (and vice versa) stops on Curragh Road, right outside the stadium.

Please visit buseireann.ie for further details of times and availability.

Taxi Services
A taxi from the city centre would cost approximately €10-€15.
Is there car parking at the ground?

We do not have a car park at the stadium. However, there is plenty of street parking around the Turner's Cross area! This tends to get busy, so we recommend that supporters arrive as early as possible. Please remember to park with respect for local residents, at all times.
Can I buy a ticket in advance?

You can purchase tickets from any of our outlets, including online via TicketCo or directly from our club shop in Douglas Village Shopping Centre. Visit CCFC.ie/tickets for details of all our outlets, ticket prices and more. Popular games can sell-out before match-day, so we strongly advise to buy early.

Subject to availability, match tickets may go on sale from ticket huts outside the Curragh Road entrance to Turner's Cross stadium at least 1 hour 15 minutes prior to kick-off on match nights. Supporters are advised to arrive early to avoid queues or pre-purchase from one of our ticket outlets. We cannot guarantee that tickets will be available outside the ground. Our ticket huts accept card, contactless and cash payment methods.
Are there bars or restaurants around the area?

Plenty!

You can check out MenuPages.ie for more info on bars & restaurants in Cork City.
Do you have a "family area" of the ground?

The "CCFC Family Enclosure" of the Donie Forde Stand is our 'family stand'. This means that it is an ideal area to bring one or more children and enjoy a carnival atmosphere! Our club mascot Corky the Cheetah pays regular visits to this section and our volunteers provide face-painting, flags and banners!
I am bringing a child (under 4) to the game, will I be charged?

Anyone coming into the ground who is likely to take up a seat for all or part of the match will be charged, and on that basis toddlers will be charged for an U12 ticket. There is no charge for babies although the environment is not ideally suited for very young children. However, you will not be turned away because you have a baby with you and we will do our best to accommodate!

Please note that the ground does not have baby changing facilities.
If you are coming along as a 'neutral' fan or to support CCFC for the first time then you have a couple of options. Turner's Cross is an "all-seater" stadium with a capacity of around 6,900 seats.

Seating Areas:
Donie Forde Stand (1,900)
St. Anne's End (2,800)
Derrynane Road (1,185)
Curragh Road Stand (1,500)

The Donie Forde Stand is a two-tier stand, behind the home and away team dugouts. Season ticket holders with reserved seats occupy a portion of this stand (selected seats in sections B1, B3, D1 and D3) and these seats will be marked with a "reserved" sign. Additionally, sections C1, C3 and C5 are reserved for members of the media, club sponsors, match officials and guests. The far end of the stand (near the St. Anne's End) is home to our Family Enclosure section.

The Curragh Road Stand has a few names. You might hear it called "The Shed End" (in honour of the famous terrace which previously occupied the space) or the Curragh Road Stand. The loud and passionate atmosphere in the ground is usually generated in here with plenty of singing, chants, drums, large flags, fan-displays and much more! Spectators in here may stand for the majority of the game.

The St. Anne's End is the largest capacity stand in the ground. It's located at the St. Anne's Park end of the ground. A section of this stand is usually reserved for the away team's supporters.

The Derrynane Road Stand is the lowest capacity stand with six rows of seats which extend the entire length of the pitch. It's directly opposite the Donie Forde Stand.

See image below:
Who can I speak to if I have a question while at the stadium? 

Our match-day stewards and security team are happy to help with any questions or concerns you may have. Our Supporter Liaison Officer (SLO) are also on hand to help any supporter that has a question or concern at the ground. We currently have one SLO who can be identified by their jacket with the CCFC crest on the front and "SLO" written on the back. The SLO will assist you with your question/issue or put you in touch with the relevant parties to help further if necessary. You can contact the SLO directly by emailing slo@corkcityfc.ie.  For more information about our SLOs, click here.
Is there somewhere I can buy a souvenir?

Yes, the club shop is located at the Curragh Road Stand as you enter from this end of the ground. It's open 75 minutes before kick-off, at half time and at the end of the match. Volunteers will also be outside the ground selling our matchday programme "City Edition". As well as a range of jerseys, hats and scarves, most of the items on sale are smaller souvenirs like pin-badges, key-rings and gifts at low-cost prices.

Although it can appear busy at times, particularly closer to kick-off, please don't let that put you off. Service is quick and once you get to the shop counter feel free to take your time to browse the items on display.

You can buy online from our web-store by visiting CCFC.ie/shop.
Is there food available to buy in the ground?

Yes, third-party providers such various chip-vans and confectionery outlets operate throughout the stadium. You can buy hot and cold drinks, rolls, burgers and a range of other snacks to help you enjoy the experience. It's cash only at these outlets.
Sure! Please note to comply with stadium regulations, you will NOT be permitted to enter the ground with any 'controlled container' such as bottles with caps, cans, lunch boxes etc.
Are toilet facilities available?

Yes, there are male and female facilities sign-posted at the Curragh Road Stand, St. Anne's End and Donie Forde Stand.
Are there facilities for disabled / wheelchair users?

Yes. We have a designated sections ideal for wheelchair users at the Curragh Road Stand and St. Anne's End. The views from here are great! Our stewards will be happy to assist in finding and accessing this area.
I enjoyed my first visit – can I buy a season ticket?

Yes. Season Tickets are available before the season starts and we publish purchase info on our website and social media channels. They are a great way to save if you plan on attending most home games! You also get priority access to big away games and cup games!  We also sell half-season tickets in the run up to the second half of the season. Contact the club atinfo@corkcityfc.iefor more info.
I'm visiting for the first time but I'm supporting the other team.

Keep an eye on your club's social media channels in the days & weeks leading up to the game. The away club will provide supporters a link, by which tickets for the away end can be purchased.

Alternatively you can reach out to the CCFC SLO by emailing slo@corkcityfc.ie.
I've got some feedback on my visit

We welcome feedback from you after your visit – what did we do well? What could we do better? Let us know by dropping us an email to info@corkcityfc.ie
Recent News
View all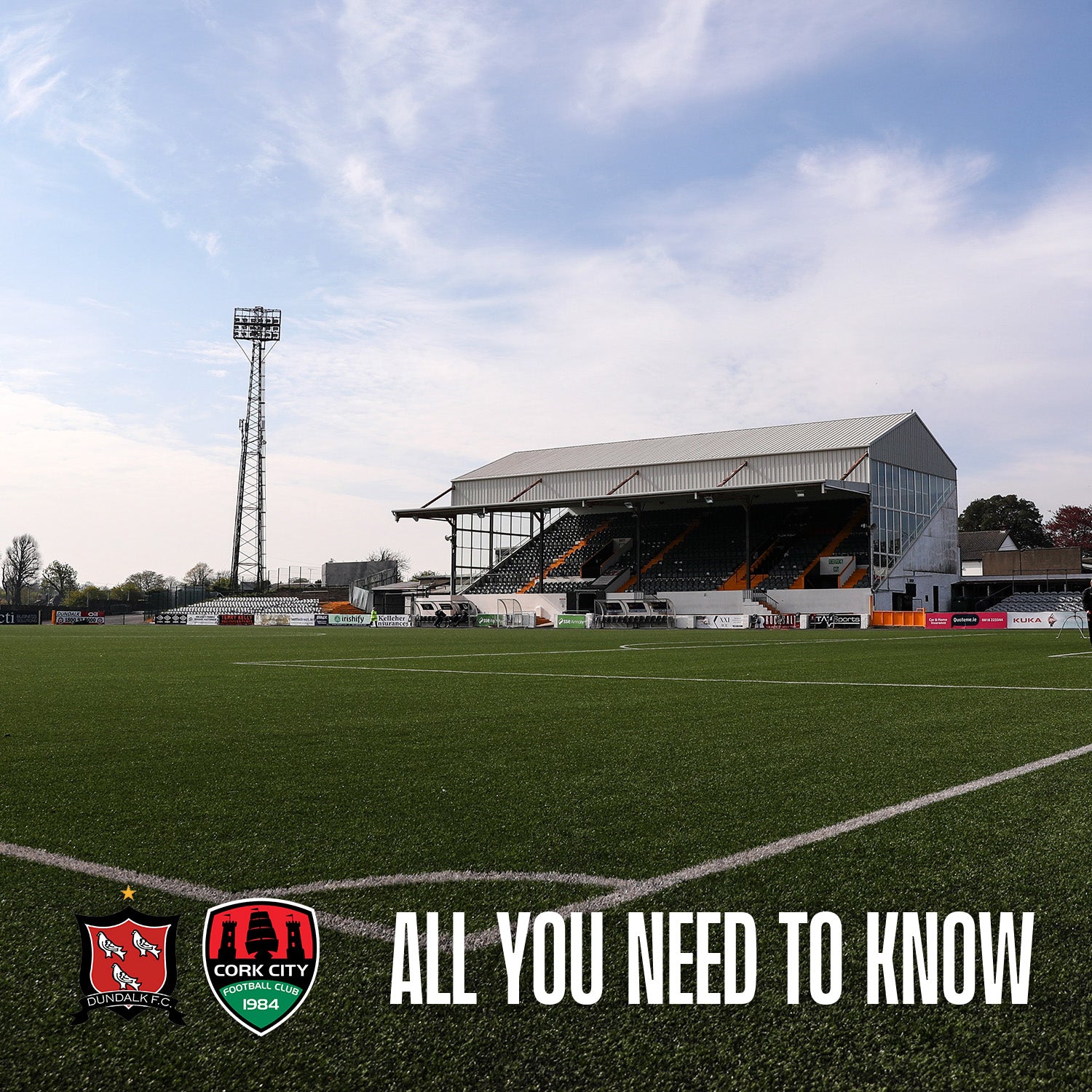 Dundalk vs City: All You Need to Know!
Dundalk vs Cork City - Monday 25 September, 7:45pm, Oriel Park, Dundalk Ticket Information   Match Tickets are available here.  Please purchase your tickets online in advance. Do not travel if yo...
News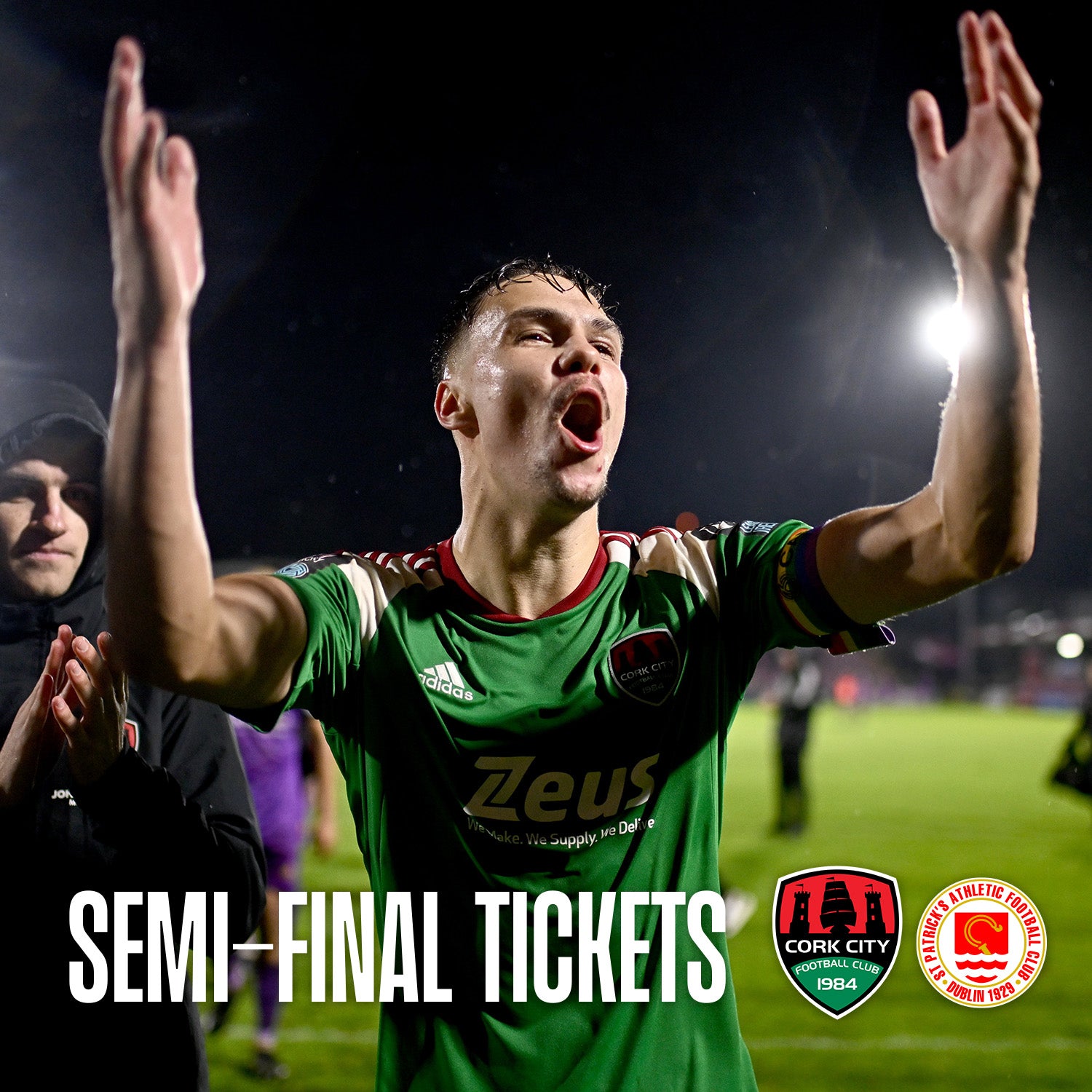 FAI Cup Semi-Final Ticket Information
Cork City FC are pleased to confirm ticket information for the forthcoming FAI Cup Semi-Final against St. Patrick's Athletic. The game will take place at Turner's Cross on Sunday, October 8th at 2...
Match Previews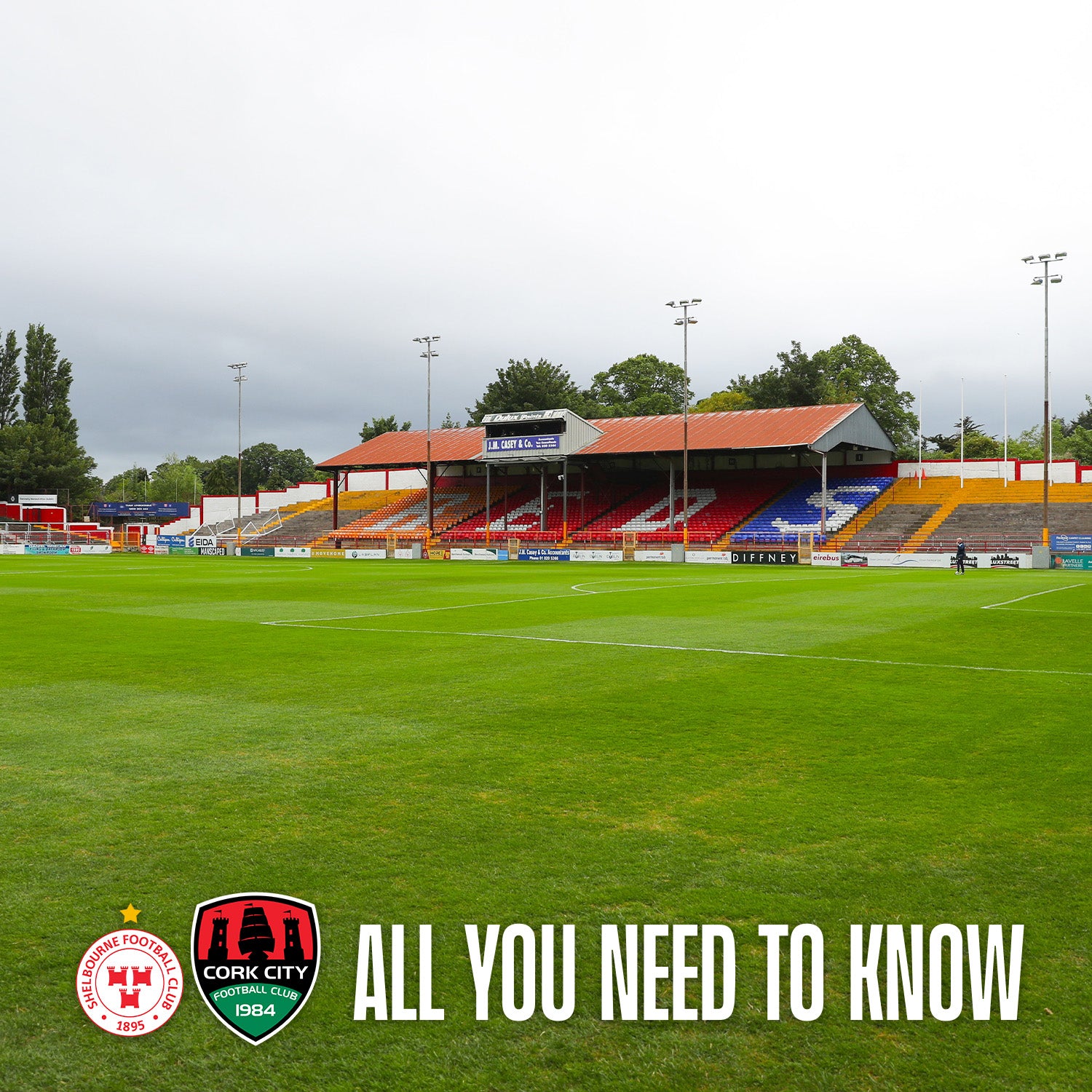 Shelbourne vs City: All You Need to Know!
Shelbourne vs Cork City - Friday 22 September, 7:45pm, Tolka Park, Dublin Ticket Information   Match Tickets are available online here  Tickets must be purchased in advance using this link as ther...
League Tables
See the league tables for our Men's, Women's & Academy sides!